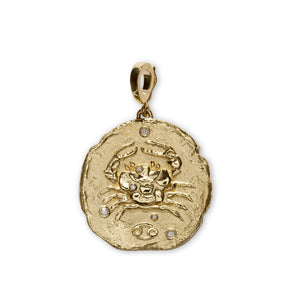 Featuring Ancient Greek Zodiac symbols for Cancer, with their constellations overlayed in diamonds. Each is engraved on its back with its Zodiac sign.

 Birthdays: June 21 – July 22
This coin comes on a charm clasp. Meaning the clasp opens and closes and can be taken off or put on any chain
Made and hand-finished in LA, each piece sold helps ocean-related cause. 
18K Yellow Gold 
.09ct White Diamonds